.
here are some more images from the supper.
recipe for shrimp rolls follows...
enjoy!
rebecca standing in the door of her idea shack:
the light inside is insanely beautiful- dim, but glowing.
we all loved looking at the reisling gelee', or as we called it that night, "Fancy jello shots"...
it was paired with
cheeses and roasted grapes
we all set the table with odds and ends and cuttings from rebecca's and rinne's gardens:
steve made sure everyone was well-hydrated. it was close to 100 degrees!
luckily, there was the slightest breeze:
by the end, everyone was scraping the last morsels from their plates:
- - - - - - - - - - - - - - - - - - - -
HUGH'S SHRIMP ROLLS
- - - - - - - - - - - - - - - - - - - -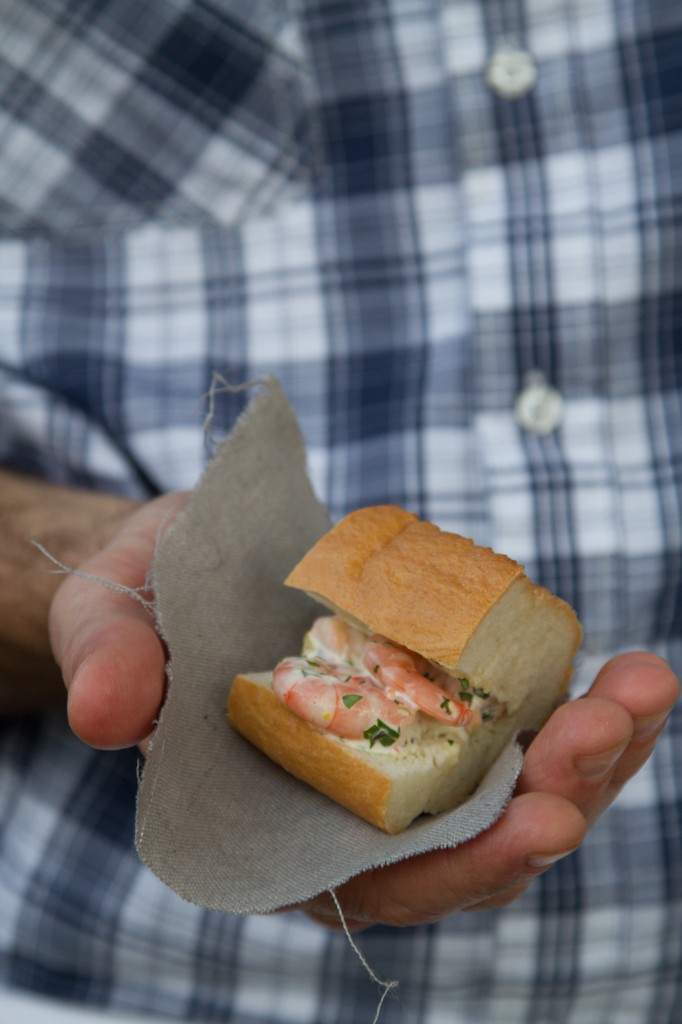 Little
Shrimp rolls
Serves Four
1 tablespoon Old Bay
2 bay leaves
1 sprig of fresh thyme
1/2 pound medium sized (41/50) American white shrimp, beheaded, peeled and deveined
1 tablespoons mayonnaise
1 tablespoon crème fraiche
1 teaspoon Dijon mustard
1 tablespoon minced celery
1 tablespoon chopped capers
1 teaspoon minced shallot
1 tablespoon freshly squeezed lemon juice
1 tablespoon chopped flatleaf parsley
1/4 tablespoon chopped fresh thyme leaves
pinch of red chile flake
1/2 teaspoon kosher salt
1/8 teaspoon ground black pepper
4 six-inch pieces of soft baguette, cut like a hotdog bun
1 tablespoon unsalted butter
Preheat oven to 400°F.
- Bring a gallon of water to a vigorous boil and add the old bay, bay leaves and fresh thyme.
- Add the shrimp and cook for four minutes and then remove the shrimp and cool in an ice bath.
- Remove shrimp when cooled and set aside.
- Place the mayonnaise, crème fraiche, Dijon mustard, celery, capers and shallot in a bowl and stir with a wooden spoon.
- Add the lemon juice, parsley, thyme, chile flake, salt and pepper.
- Stir to combine and then add the shrimp. Toss well.
- Spread the inside of the baguette portions with butter and place on a sheet pan.
- Toast in the oven for five minutes, or until nicely golden and toasty.
- Remove bread from oven and equally fill with dressed shrimp.
- Eat.